Your status
By making a booking through our Site, you confirm that you are legally capable of entering into binding contracts and you are at least 18 years old.


Venues
Our Events are held at a number of external venues. We may occasionally have to change the published venue for the event for reasons beyond our control and in such cases you will not be entitled to cancel unless the change in venue represents a significant disadvantage to you.


If you have a disability or medical condition that requires special arrangements to be made, please notify us of your requirements when making your booking on the website.


Purpose Of Event
The primary and sole purpose of our events are business networking. While we will always endeavour to ensure our venues and staff provide a professional service, suitable venue and adequate refreshments and welcome constructive feedback - unless the purpose of business networking is interrupted or prevented then it does not constitute a valid reason for purported non-delivery of an event or breach of contract. If you feel that these conditions are not being met during an event then you should report this to a member of our event staff on site at once.


Losses & Damages
You are liable for any loss or damage which you may cause to an external venue and agree to adhere to all their housekeeping rules, procedures and policies (including policies as to behaviour and conduct) that may be in place at any venue.


Event attendees shall be required to keep their personal belongings with them at all times and we accept no liability for damage to, or loss of, personal belongings. We do not accept any responsibility for any loss (including, without limitation, theft) of any property occasioned on our premises or at external venues.


Booking
All attendees must book in advance on the website for event they wish to attend. A confirmation email will be sent with each booking. Entry cannot be guaranteed if bookings are not made in this manner.


Price and payment
The price of any of Our Events will be as quoted on our website, except in cases of obvious error. These prices are exclusive of VAT. Prices are liable to change at any time, but changes will not affect any bookings which we have already sent You a Booking Confirmation for, except in cases of obvious error. You may only pay for your booking online by credit and debit card. We regret that we cannot accept cheques or cash as payment for bookings made online through.


Cancellation & Refunds
We do not offer refunds on tickets other than when the event is cancelled. In such circumstances, we will attempt offer a full refund or transfer the booking to another event of the booking company's choice. In certain other limited circumstances we will provide a partial credit to allow the booker to transfer their ticket to another date. All refunds and transfers are at the discretion of London Built Environment.


Attendee Sheets
We shall endeavour to produce and supply an attendee sheet for each event. Only attendees that physically attend an event shall be entitled to a copy of these sheets. Whilst every effort is made to include all attendee details on datasheets we cannot always guarantee veracity or inclusion especially with late bookings. The information you provide should be accurate and not misleading.


Conduct & Behaviour
All attendees must conduct themselves in a professional and amicable manner whilst attending our events. We reserve the right to refuse entry to individuals or groups both for individual events and for future ones.


Publicity
We may use photographs taken at events in publicity and marketing materials, including use on our websites. Your attendance at an event may mean that you are featured in such photographs and are deemed not to object to the taking of such photographs as detailed above. If You do not wish to be included in any photograph please notify the photographer at the relevant event prior to the photographs being taken.


Data Protection
All data collected when booking is subject to our privacy policy. We do not keep or store any card details when these are used for bookings. We do not share your data with any third party parties that are not the organisers or attendees.


Indemnity
You agree to indemnify and hold harmless London Built Environment, its officers, directors, employees and agents, from and against any claims, actions or demands, including without limitation reasonable legal and accounting fees, alleging or resulting from your use of any online content, services, or your breach of the terms of these Terms and Conditions.


We will not be responsible to you or any third party for any business loss (including loss of revenue, profits, contracts, anticipated savings, wasted expenditure, data or goodwill) or any other loss or damage which does not result directly from our actions.


Law and Jurisdiction
Contracts for the booking of our events through our site will be governed by the law of England and Wales. Any dispute arising from, or related to, such contracts shall be subject to the non-exclusive jurisdiction of the courts of England and Wales.
Our Next Event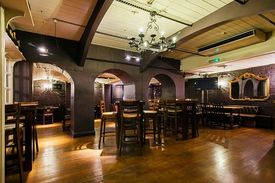 West End & Mayfair Group
18:00-21:00 Tue 6 June 2023
The King's Head Mayfair
10 Stafford St, Greater, London W1S 4RX

Places are strictly limited, reserve yours today
Book Your Ticket Now!